Oh, the morning. For some people, it's the most productive time of the day. For others, it's a frantic race against the clock to wake up and get to where you're going. Whether you're at one extreme end of this spectrum, or somewhere in the middle, these insanely quick breakfast recipes are bound to help you claw back some time in the morning!
These have been around for a while and are definitely a fan favourite with the whole family (including kids!) so they are a no-brainer. Using ingredients like nut-based milks (almond and coconut milk work well), oats and chia seeds, and sweeteners like honey or maple syrup plus your favourite fruit like strawberries or bananas are a yummy combination. Simply put these together the night before, and you have a healthy, easy breakfast to eat in the morning. Switch up your mix-ins for endless possibilities! This is right up there with the most flexible of our quick breakfast recipes!
You could go the regular peanut butter and toast route in the morning, but this one is just a little different and oh so tasty. Take your favourite bread, toast it up, add a half or whole ripe avocado, mash it up and add parmesan cheese and red pepper flakes. Try this recipe from minimalist baker, which has just the right amount of kick and energy to get you through your day!
As long as you have the ingredients on hand, this sandwich from Macheesmo is quick and easy to make! It'll also keep you full until lunch! Filled with goodies like black beans, avocado, eggs, and cheese, and placed on an English muffin, you'll be glad you took 5 minutes to make your own version of this fast food look alike filled with better ingredients.
Eggs are a great breakfast food. Full of protein, and a great boost of energy for the day, they're an awesome way to start your day. Whether you poach your eggs or scramble them, using the microwave for morning breakfast can be a lifesaver. Food blog thekitchn explains how to poach eggs in the microwave (you can also use this at work, too!)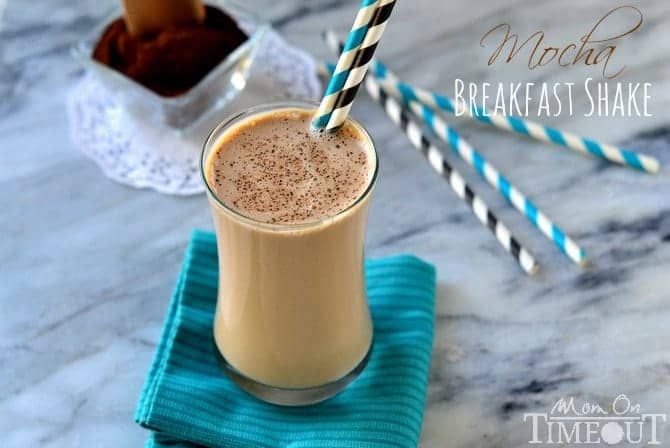 You heard right – a mocha breakfast shake. The combination of greek yoghurt for your protein punch, espresso powder or ground coffee for a caffeine wake me up, and, unsweetened cocoa powder to add a touch of chocolatey flavour. You can also add some banana and milk to change the texture, flavour, and consistency – the choice is yours! This is a quick one that will have you smiling in the morning.
What are you favourite quick breakfast recipes? Let us know!